What is Tinker's Cat Café?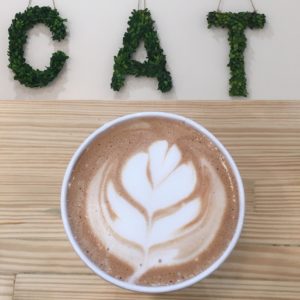 Tinker's is the first cat cafe in the beautiful Salt Lake City area. At Tinker's Café we serve local Rimini coffee and tea drinks with names full of cat puns, like catpuccino, and camomeow tea. Local pastries from City Cakes, Pastry Arts & Les Madeleines. Vegan, gluten free and non vegan options are available. All food items are made outside of Tinker's Cat Café and separate from Tinker's Cat Lounge.
What is Tinker's Cat Lounge?
Tinker's Cat Lounge is a cat playground full of scratching post items galore, and of course cozy seating areas to snuggle or play with cats. If you happen to fall in love with a furry friend and would love to adopt them, you can! All cats are up for adoption from Salt Lake County Animal Services. At Tinker's Cat Café our main goal is to get as many furrever homes for our fostered cats as possible. If you are not able to adopt you can enjoy the therapeutic benefits from cats as much as you want anytime you visit Tinker's Cat Lounge. To visit please make an online booking at 'Make a Reservation'.
Save
Save
Share Tinker's: