Price for Adults & Children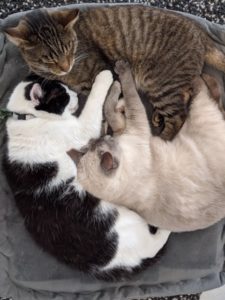 It is $9/hr to enter Tinker's Cat Lounge. Children 10 & younger are $7/hr. In order to make reservations for adults and children you will need to make two transactions. 3 yrs old and younger are FREE. This fee helps support the kitties care and food.
Location & Phone Number?
302 E 900 S, SLC Utah 84111.
801-519-CATS (2287)
Café Goodies?
Coffee, teas, and tasty local (vegan, gluten free, and non vegan) are available for purchase in Tinker's Café area. We offer all local vendors delivering delicious pastries from City Cakes, & Pastry Arts. Our coffee is roasted and packaged by local business Rimini.
Online Reservations?
Our priority is to create a stress free enjoyable space for the cats and visitors. In order to keep stress levels down for the kitties we will allow a certain amount of people in the cat room at a time. We highly encourage online reservations, especially for the weekends. Walk in guests are always welcome if the cat lounge isn't at it's maximum capacity. To get your your kitty fix please schedule your time through our online reservation system. Reservations allow guests to visit in hourly slots.
Private Parties
If interested in booking the entire cat lounge per hour for birthday parties, office parties, book clubs etc. please send an inquiry email to lisa@tinkerscatcafe.com with the subject heading 'Private Party'.
An Hour?! I want more Kitty time!
We understand if this happens to you. If your reservation or hour slot has expired and Tinker's isn't fully booked, you are welcome to add on more time to relax with the kitties. 30 min or hour increments can be purchased after your reservation is up.
Arrival Etiquette
We will give walk in guests your time slot if you are 15 minutes late to your reservation (without giving us prior warning). Please allow 24 hour cancellation notice for your full refund.
Save
Save
Save
Save
Save
Save
Save
Share Tinker's: