We know you have questions and hope this page helps. If you are left with mo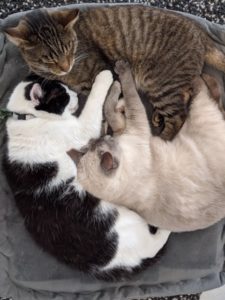 re questions or a comment please contact us with the form below.
When do you open and what are your hours?

CLOSED MONDAYS
CAFE IS OPEN & CURBSIDE IS STILL AVAILABLE (serving espresso drinks and local pastries-We have gluten free, vegan, and non vegan options)
TUESDAY-THURSDAY 9am-6pm
FRIDAY-SATURDAY 9am-7pm
SUNDAY 11am-6pm.
CAT LOUNGE IS OPEN
TUESDAY-THURSDAY 10am-6pm
FRIDAY-SAT 10am-7pm
SUNDAY 11am-6pm
Can children attend Tinker's Cat Lounge?
Yes, children 8 and under can visit during children's hour on Thursdays 5-6pm for $6/ea. per parent and child. Reserve online for children's hour. We play kid music during the hour and have fun cat board games and books while visiting the adoptable kitties. Children 9 and older may come in anytime with an adult.
How much is the cover fee?
There will be an $8 per hour cat lounge fee. Children 10 and under are $6. Children 3yrs old and younger are FREE.
Where in Salt Lake City ?
302 E 900 S SLC UTAH 84111

801-519-CATS (2287)
Can I adopt a cat or kitten from Tinker's Cat Café?
Yes! Please do! You can adopt a kitty from our cat lounge. All kitties come from Salt Lake County Animal Services and are in need of a loving home. Every cat is vaccinated, micro chipped and medically sound.
What about the cats well being?
The animal shelter selects the best cat candidates for Tinker's Cat Lounge environment. Their health is checked before coming to Tinker's. At Tinker's Cat Café we provide a safe, and loving environment. Our main concern is the cats well being and to find a furrever home for them. There is an rea for "cats only" when a cat needs alone time from humans. Cat Cafe's have made a tremendous increase in finding kitties there new loving homes all over the world.
Can I bring in my cat?
No. Pretty simple. If you have a cat at home please keep them there until you get back home.
Questions? Please fill the form below, thank you!
Save
Save
Save
Save
Save
Save
Save
Share Tinker's: